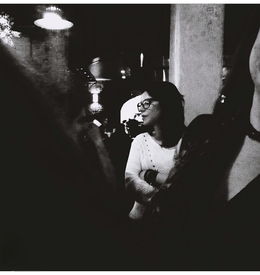 Natalie Madden (University California Berkeley) makes paintings, photos, sculptures and performances. By contesting the division between the realm of memory and the realm of experience, Madden creates intense personal moments by engaging the senses with the influence of spheres, geometric shapes and exploration of the frequency of color and wavelength. The spherical shapes help to express the illumination of light when it caught dancing through the trees or flickering on water. She explores that color is the frequency of visible light and she is interested to combine an avenue that includes the frequency of wavelength in her work. She is fascinated with the fact that the blending of all frequencies of light together, it become's white, or bright light, for instance, the Sun. Madden use's these reflections in nature to help talk about energy, emotional and spiritual journey and healing through meditation to further explore the mysteries in unseen energy. Her works radiate a warm remnant of the inherit sensation when we truly connect to our loving selves. Bright, light hearted, yet complex, spheres of moving light.
"I am continuing my own personal pursuit of expressing energy to engage the viewer to participate in the journey and exploration of sensation and feeling without words. Rather than cage my audience in a forced manner to experience what I experience literally, I allow the viewer to participate in that they enjoy their own interruption and engage the sense of strength and freedom that is exists within us all."
Natalie Madden currently works, lives in and fully enjoys Oakland, CA.

CV:
Natalie Madden
University of California Berkeley: Bachelors of Art Studio
nataliemadden@berkeley.edu
2015 1078 Gallery "The Collective Collectors"
2016 Panorama "Simplifying the Complexities" (solo exhibition)
2017 Worth Ryder Gallery "History of Light"
2017 Land and Sea "The Horizon"
2017 Worth Ryder Gallery "25. Rise. Shift. Evolve."